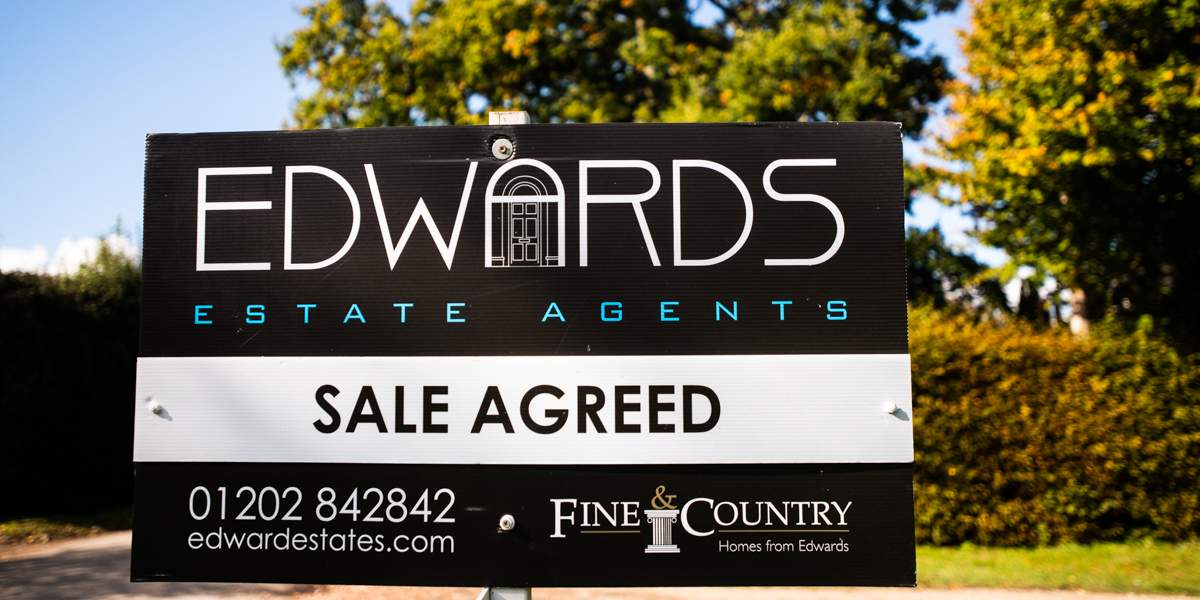 Dorset house prices continue to rise    
By Grant Brooks – MD Edwards Estate Agents  
House prices continue to rise is not a headline I had expected to be writing this month, but as surprising as it is, the average house price in the UK as a whole as well as more locally has again increased in October, despite the current gloomy economic predictions.
With little by the way of positive news from either the economy or the property market currently, I was encouraged to read this week, the recently published 'House Price Index' from the property portal Rightmove.
The monthly index from the property portal provides month on month analysis from property data collected from just about every estate agent in the UK, and are able to accurately show the real-time position of the current state of the property market.
Their October report confirms that the average price of property coming to market in the UK has increased by 0.9% this month to a new record of £371,158. In justification, they suggest the main cause being the shortage of property coming onto the market as well as continued strong buyer demand.
The surprising new asking price record may seem out of sync with the current economic uncertainty, particularly given the recent fallout from the government's mini-budget in late September, although whatever the true impact there is from this will take a little time to filter through to house prices.
House prices holding firm
In line with our own experience locally, the report also shows little sign of any downward pressure on the prices of existing properties for sale, with the number of reductions up only 2% on last month to 23% of all properties reduced, which is still much lower than the pre-pandemic five-year average of 32%.
Rightmove does however confirm that they expect asking prices to drop in November and December, which is the normal trend for the two months running up to Christmas, although prices are also likely to be under pressure from the current economic uncertainty.
Property price forecasts are at the forefront of the minds of many of us in the property business as well as would be buyers and sellers at the moment, but there are more economic events to play out before any predictions for the 2023 property market can be contemplated.
Higher mortgage interest rates
The recent rises in UK mortgage interest rates have been well documented, but how has this affected buyers and sellers within the local property market?
The increases in mortgage interest rates have understandably caused some would-be local buyers and sellers to pause their home moving plans, of those we have spoken to, most are still wanting to move but will wait to see what the next few weeks and months bring.
Nationally, Rightmove confirm that overall demand is down by 15% in the last two weeks compared with the same two weeks last year, but it is still 20% higher than the market of 2019.
Although market sectors have reacted differently, first-time buyers, for example, seem to have been the hardest hit, as higher mortgage interest rates may prove to be a step too far for those who were already stretching their finances. Rightmove confirm that demand in the first-time buyer sector is down by 21% in the last two weeks compared to the same two weeks last year, though it is still up 24% compared to the more normal market of 2019.
Existing buyers and sellers
Whilst some of the hardest hit first-time buyers may be reconsidering buying their first home until the mortgage markets find some stability, existing buyers and sellers that have already agreed a property purchase are holding steady.
The index confirms that only 3.1% of sales agreed have fallen through in the two weeks since the mini-budget, which is in line with the 3.0% over the same two weeks during 2019. As those who managed to secure a mortgage offer at a lower rate are rushing to complete their purchase before that lower rate offer expires.
Considering a move this Autumn?
If you would like some help or advice, please feel free to give me a call at our Ferndown Office anytime.
You can use our Instant Online Valuation or book a Face to Face Valuation.
Until next month, happy house hunting.
Thanks for reading
Grant Brooks – Edwards Estate Agents
See what our customers say about us, read our customer reviews.