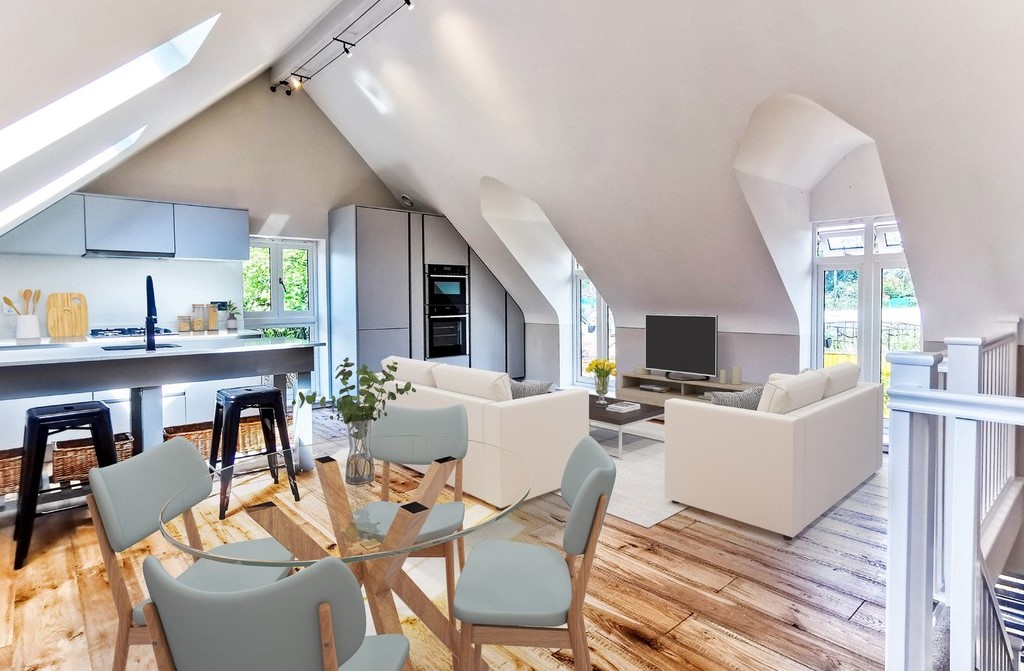 Image of 2 bedroomed new home for sale in Longham, Dorset – Price £325,000 
 First Time Buyers Guide – From Edwards Estate Agents
There's never been a better time to get on the property ladder! With the government's current stamp duty holiday saving buyers as much a £15,000 and the continuing record low cost of borrowing, now is a great opportunity for first time buyers to make some big savings and fulfilling the dream of owning their first home.
At Edwards, we've been helping first time buyers find their perfect home for over 12 years. Below we've put together some helpful advice to the top 5 most frequently asked questions by first time buyers  –
5 of the most frequently asked questions by First Time Buyers
1). How much of a deposit will I need?
Firstly you will absolutely need to save for a deposit, there really isn't any way around it!
Whilst there is no one size fits all answer to this most frequently asked question, the rule of thumb is the more of a deposit you have, the better mortgage deal or lower cost of borrowing you'll be offered.
There are of course lots of options available in terms of LTV (Loan To Value), this is the term using by lenders and normally quoted as a percentage. For example 90% LTV would mean a 10% deposit would be required.
If you are looking to buy a home costing £200,000, a 10% deposit would be £20,000, a 5% deposit £10,000.
2). What are the costs involved in buying a first home?
Having a clear understanding of the costs involved is essential, as it's not just the deposit first time buys have to consider.
Mortgage – It's important to understand if your lending source has an arrangement fee.
Survey – All lenders will require the property to be surveyed, this cost is the buyer's responsibility
Solicitors – The legal process is important, so choosing the right legal representation is essential, make sure you get a written quotation confirming costs.
Stamp duty – A property purchase of up to £500,000 will not be subject to stamp duty until on or before 31st March 2021.
Buildings Insurance – Your lender will make this a condition of any loan but shop around, it's a competitive market, use the comparison sites.
3). What are to ongoing monthly costs going to be?
In the past this has often been overlooked by first time home owners, leading to financial difficulties. Thankfully, today budgeting is an integral part of the fairly strict checks undertaken by lenders when a mortgage is applied for.
Buyers are required by the lender to demonstrate their ability to pay for the loan so will them evidence of any existing outgoings as well as proof of income. This ensures as much as possible whether the loan is affordable. Here are the most likely new costs to consider –
Council Tax
Gas, Electricity and Water
Telephone and broadband
Contents insurance
These will be added to any existing expenditure to produce an accurate future budget.
4). I've seen 'Affordable home buyer schemes' am I eligible?  
There are a number of government backed schemes for first time buyers, they are essentially broken down into two main sections, 'Affordable housing Schemes' and Shared Ownership Schemes'.
To check eligibility to better understand how they work, we have produced mini guides to both of these below –
5). How do I find the best mortgage deal?
There is fierce competition within the mortgage market, so shop around.
As a first time buyer, the options, requirements and technical jargon can be difficult to navigate. So getting professional advice would be our recommendation. Certainly in our experience, the best deals are most often found by using a mortgage broker, rather than simply going to a local bank or building society.
We are here to help!
Hope you found our first time buyers guide helpful. If you are considering buying your first home and need any further help or advice, please feel free to contact your local Edwards Office.